There is enough food to feed the global population of 8 billion people [1] .FAO goes further to note that 811 million people were malnourished in 2020.According to the World Food Programme,66 million primary school-age children attend classes hungry across the developing world, with 23 million in Africa alone.[2]
Article 43 of the Kenyan Constitution, states that every person has a right to be free from hunger and to have adequate food of accepted quality." This means that in an ideal sense food should be available, it ought to be affordable of the right quality and nobody should go hungry. However, despite constitutional provisions, the reality is very different. From September 2021, for example, the inflation rate rose in the midst of an already difficult existence of rising cost of basic products such as fuel, food and electricity[3].According to the Kenya National Bureau of Statistics (KNBS), food prices rose to 10.63% in September compared to a year ago. With the rising cost of living, ordinary citizens already negatively impacted by Covid 19 have to pay more to access basic commodities. Sadly, in the 2021 Global Hunger index, Kenya ranks 87th out of 116 countries[4].
A walk through various households in Kenya, especially in resource constrained settings confirms that families are barely surviving. Many have resorted not to taking lunch simply because there is no money to spend. Food is essential for human development, it protects people from diseases, ensures out body cells are alive and contributes to growth. Healthy food is a mirage to many households in Kenya. Sometimes it is because of lack of money, other times it is because of choices that people make. Many people are wired towards processed food. Eating a packet of chips, chicken and soda, makes many feel they have eaten well. On weekends, families throng the city centre queuing for food in local fast food outlets. The rate of obesity is on the rise as well. For example, in Kenya as in many African countries, people are eating more junk food. Families are spending less time cooking at home. Additionally, online platforms are contributing to changing methods of food consumption through ordering food online.
You are what you eat, when you eat healthy food, you stay healthy and vice versa. There is a lot of negative attitude when it comes to eating traditional vegetables for example. Many liken them to "herbs" because of the bitter taste. For example, the African Nightshade popularly known as Osuga by the Luo community, or amanagu by the Abagusii community has a bitter taste that is actually medicinal. The widespread fortification of food also, currently in Kenya for instance most cereals are fortified. As noted by, fortification does not mean heath. Fortified food often come with high sodium, fat and sugar content.[5]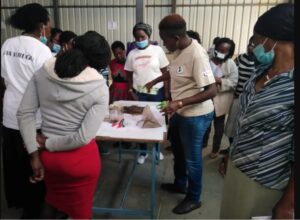 Nutrition is central when we talk about food. For example, school children cannot concentrate in class when have not eaten. It is very evident that school feeding programmes resulted into more children enrolling in school to enable them have access to food. As noted by Sophie Atieno[6] school feeding programs attract more children to school as it assures them of a meal, keeps them in school and thus reduces their dropout rates. Furthermore, feeding enables children's educational performance to improve.
Food and nutrition are interrelated. Lack of adequate nutrition affects other rights such as right to education, right to health and even the ability to move from one place to another. When pupils and students do not have adequate food, they cannot read, their eyesight's become hazy and their performance is highly affected. Climate change also affects people's ability to consume healthy food because of scarcity of water which is important in food production.
Cities and towns are growing in Africa as a very high rate. With the increasing population, cities are becoming concrete jungles. This makes urban communities to depend on rural communities or neighbouring areas which still have vacant land that families can have access to fresh food. Land in the cities has instead been converted to buildings and apartments, with children even lacking spaces to play. This brings about the relevance of having small gardens (garden in a sack) to enable families to have access to healthy food such as vegetables such as sukiyaki[7] and spinach as well as onions. Many a times people cannot trace where their food comes from, sometimes it comes from the nearest sewerage[8].There are reported incidences of vegetables being grown in sewers in Nairobi and the inherent danger that this poses to consumers. The food grown in sewers often contains high levels of toxic chemicals and this has implications for health. Heavy metals get into our bodies through food consumption and have negative impacts on body cells, for example heavy metals impair cells, tissues and body systems. Heavy intake of copper causes anaemia, liver and kidney damage, additionally, high mercury intake causes brain damage and interferes with the functioning of the central nervous system[9]
This is why having food justice in a city context is important first of all to alert communities on the importance of healthy food, relevance of being able to trace where their food comes from as well as nutritional values of food. It calls for creation of spaces within urban centres where food producers and consumers interact.
For example, as part of Food Justice in the City, Haki Nawiri Afrika in collaboration with Mathare Legal Aid and Human Rights Advocacy (MLHRA) organised a session in Mathare –an informal settlement in Nairobi to deliberate on agroecology and food. With practical skills in agroecology urban based communities can grow safe and healthy food in sacks. This helps reduce trips to the market to buy onions and sukumawiki. It also assures families of a ready supply of fresh vegetables not grown using sewer water. Additionally, a family may decide to sell some of their vegetables to neighbours.
In actualising food justice in a city context, the conversations start with "Where does your food come from?" this is followed by an exercise on basic soil testing to determine whether the soil to be used to grow food is fertile. Carrying out soil testing in Mathare, confirmed that indeed their soil has no nutrients. A glass of soil presented by members of Mathare Legal Aid and Human Rights Advocacy (MLHRA) for testing soil texture, presence of micro-organisms and water retention capacity confirmed that the soil did not have any earthworms, had a lot of broken glasses and was very thin. The forum enabled discussion about importance of healthy soil and how this links with the food we eat. Armed with information on agroecology, urban dwellers can utilise the same knowledge and skills on their plots of land in the rural areas. Furthermore, when agroecology is practiced in urban areas, parents become more conscious of what children eat. They can also sell the surplus   to their neighbours.
Indeed, food justice dialogues should not only be in rural areas but also cities because cities in Africa are growing at an alarming rate and the growing population continues to demand food.
References
Cover photo credit @Leonida Odongo
---
[1] https://www.actionagainsthunger.org/world-hunger-facts-statisticsr
[2] https://www.embracerelief.org/charitable-donation-for-hunger-relief/
[3] https://www.theeastafrican.co.ke/tea/business/kenya-s-inflation-hits-19-month-high-on-costly-food-fuel-3569522
[4] https://www.globalhungerindex.org/kenya.html
[5] https://www.healthline.com/health/food-nutrition/fortified-and-enriched-foods#Fortified-and-enriched-foods-for-kids
[6] https://www.civskenya.org/about-us/our-blog/212-benefits-of-school-feeding-programs
[7] Sukumawiki is a Kiswahili word for kales
[8] http://www.awcfs.org/index.php/component/k2/item/1099-nairobi-county-residents-feeding-on-sewer-vegetables
[9] ibid