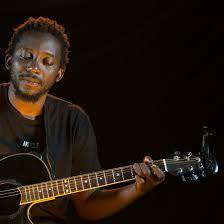 Art has been used since time immemorial in the African context. Art plays various roles in society. This includes a medium to inform people about something, to educate and  to mobilise people to act about an issue.
During the struggle for independence, in many counties across Africa , art was used to mobilise communities to demand freedom , to bring people together as well as to build consciousness about oppression. For example in the coastal region of Kenya , Mekatilili wa Menza used art through songs and dance  .The first incidence was in response to her brother's capture into slavery by Arab slave traders in a market in Kilifi[1]Mekatilili's resistance was also as a result of the intended removal of the community from Sabaki River  and introduction of hut tax[2].Mekatilili's  message was no cooperation with the British , her other target was British's prohibition of mnazi a popular wine brewed in the coastal region.Mekatilili spoke out against oppression and using kifudu dance , which  brought crowds together and spoke to them on resistance[3]
In the current times , through arts , individuals and communities are resisting .Using poetry, satirical cartoons , twitters and other social media platforms , communities are saying no to bad governance , repressive regimes and  rights violations meted on communities .For example in Kenya , renowned cartoonists Gado[4] and Gathara[5] has used cartoons as a form of expression, to bring out consciousness on issues affecting Kenyans , Africans and other parts of the world. These artists make use of  satire and humour which have been very effective  in raising consciousness on issues .Examples of issues cartoonists have raised in Kenya and across the East Africa region include corruption,[6] succession , Covid 19 and violation of rights and freedoms[7][8] and leadership[9] among others.
Other avenues used have been music such as Juliani through he song Utawala[10] ( Governance ) where he speaks about inequality, the suffering of the masses and how poor governance has contributed to this state of affairs. The song also speaks about classes , the haves and the have nots[11] Other example of art in checking state excesses have been done by spoken word artistes such as Dorphan who speaks about the sad state of Kenyan Heroes and what befell them in this spoken word Mashujaa[12] and links the suffering of Kenya's freedom fighters to the everyday suffering of the ordinary Kenyan. Another example is Abdilatif Abdalla's writing Kenya Twendapi?- Kenya where are we heading? As a critique  of the then president Jomo Kenyatta on the dictatorial tendencies and the KANU government[13].Abdilatif was imprisoned for 3 years after the publication in 1968, making him Kenya's earliest political prisoners.Additionally with the onset of Covid 19 and the rights violations taking place more so in informal settlements , artists in Kenya's Nairobi area , developed wall murals expressing rights violations such as arbitrary arrests and also educating the community about Covid19[14]
Music has also been used to express displeasure and speak truth to power. Kenya has had musicians speak against injustice through political songs figuratively packaged using metaphors, symbolism and personification[15].Misiani's- a Kenyan musician  songs focused on Kenya's dark days of political repression, multipartism and disillusionment(Oloo 2007)[16]Erick Wainaina also sang about corruption in the song Nchi ya Kitu Kidogo ( a country of bribery) depicting the high levels of corruption in the country.[17]
In Tanzania, Vitali Maembe is renowned for his activist music on issues such as corruption, governance , natural resource management[18].Sadly speaking truth to power has resulted into artistes being arrested[19] as the case of Vitali Maembe because of his song Kaisari(Caesar)[20] which speaks about campaign promises vis a vis what electorates get after election.
Street protests in form of theatre have also been used as resistance for example when activists took pigs[21] to Kenyan parliament –reflecting on the greed among politicians when they wanted to increase their allowances yet , citizenry who elected them continue to suffer from a myriad of social problems.
Art plays a key role in society and serves to mobilise , build consciousness and respond to repressive regimes.
References
Cover Photos : Tanzanian Musician and Activist -Vitali Maembe
Photo Credit @ Amanda Lichtenstein https://advox.globalvoices.org/2016/06/20/tanzanian-musician-and-activist-maembe-vitali-arrested-and-released/
[1] https://artsandculture.google.com/story/mekatilili-wa-menza-the-story-of…
[2] ibid
[3] https://www.worldpulse.com/community/users/leonida/posts/96573
[5] https://africasacountry.com/author/patrick-gathara
[6] http://gadocartoons.com/corona-virus-and-e-learning/
[7] http://gadocartoons.com/african-longest-serving-rulers/
[8] http://gadocartoons.com/press-freedom-and-corona-virus/
[9] http://gadocartoons.com/african-longest-serving-rulers/
[10] https://www.youtube.com/watch?v=Xh9Ux7WH2KE
[11] https://www.artlawkenya.com/niko-njaa-na-siwezi-karanga-again/
[12] https://www.artlawkenya.com/niko-njaa-na-siwezi-karanga-again/
[13] https://www.cambridge.org/core/journals/africa/article/kenya-twendapi-re…
[14] https://unhabitat.org/youth-in-nairobi-slum-use-murals-to-educate-the-co…
[15]https://repository.maseno.ac.ke/bitstream/handle/123456789/1435/correcte…
[16] ibid
[17] https://www.youtube.com/watch?v=Sr7_OI7QmVk
[18] https://www.youtube.com/watch?v=22rScL4SSVU, https://www.amazon.com/Majamvi/dp/B00VF950H8
[19] https://www.musicinafrica.net/magazine/tanzania-vitali-maembe-arrested-o…
[20] https://www.youtube.com/watch?v=wYvGryOTCsw